Roof Coating Installation in Eastern & Western Main Line
Restore and protect your roof with our roof coating systems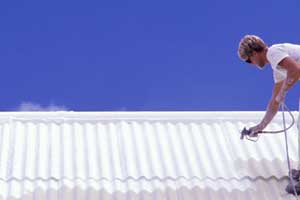 A roof coating can help fix and prevent roof leaks.
If your home or commercial building has a worn and damaged roof that leaks every time it rains, we have a solution! We install quality roof coating systems that can help you avoid the cost, mess and hassle of a tear-off and extend the life of your roof. The roof coating can be applied to the existing roof surface to create a seamless membrane that protects against ponding water, ultraviolet light and severe weather.
Contact us today to request an estimate for your residential, commercial or industrial roof repair project in Ardmore, Wayne, Havertown and the surrounding areas.
Types of roof coating we offer:
Silicone
Latex
Fiber Cement
Spray Foam
Top four benefits of roof coating
Avoid time-consuming and costly tear-offs. By re-covering your roof, you save on labor costs and avoid landfill expenses, plus a roof coating can be applied to your existing roof without any interruption to normal business operations.
Extend the life of your roof. By protecting against ponding water, preventing UV damage, and reflecting heat away from the roof's surface, roof coating can lower maintenance expenses and help prevent early roof replacement. By renewing your roof, you might never need to replace the roof again!
Reduce energy costs. The highly-reflective finish of our roof coatings can lower your roof's surface temperature and decrease the temperature inside your building, helping reduce your cooling costs.
Ideal for use on flat and low-sloped roofs. Apply over pre-existing elastomeric roof coatings, metal roofs, built-up roofing, mineral cap sheet, and weathered single-ply membranes (EPDM, TPO/CPA). Re-coat existing sprayed-in-place polyurethane foam, concrete, wood, and many other coatings.
Products
BULLDOG®/DUREX offers a full line of roof coatings, masonry primers and more.
Bulldog Elastomeric Roof Coating
BULLDOG/DUREX coating is an elastomeric, single component, high-performance waterborne roofing topcoat formulated with 100% acrylic resins. It creates a seamless, monolithic coating when cured. The coating provides superior durability, weatherability and elongation. When applied in the white pigmented formulation that is Energy Star® rated, it will reflect heat from the roof surface; lowering cooling costs, and extending the life of roof membranes and surfaces.
Features:
Reflects heat; keeps building cool
Accommodates building movement
Non-flammable & breathable
UV-resistant and moisture-resistant
Meets all VOC regulations
Low maintenance
FarmPaint.com offers the finest in agricultural coatings, including barn and fence paint, dust control, roof and foundation coatings, asphalt driveway coatings, concrete coatings, and more.
Fibered Aluminum Roof Coating
A blend of pure waterproofing asphaltum and high grade aluminum pigments plus the addition of fibers.
Reflects up to 80% of the sun's rays, helping prevent excessive drying and cracking of substrate and reducing leaks.
Areas immediately under roof will remain approximately 15-20 degrees cooler in summer.
Inside heat is reflected back into the building in the winter, saving energy costs.
Get an estimate for your roof coating project today
Roof coating is the answer to a long lasting roof! Hynes Roofing & Siding can handle any roof coating project, large or small. If you're considering re-covering your roof with a roof coating system, call us today to request a roof inspection. A residential or commercial roofing specialist will go over all the options and help you choose the best solution for your roof.
Looking for a price? Get a no cost, no obligation free estimate.